Natural stone offers an unparalleled level of beauty and elegance. When properly cared for, the stone can last multiple lifetimes. Creating a deck area out of natural stone can be one of the best ways to reduce overall maintenance while adding sophisticated appeal.
Knowing which stones to use ultimately depends on your personal style and budget, but you should also perform research to learn about the unique properties of each natural stone choice. To help you pick the best natural stone for your pool's deck, here are some facts about the more popular choices.
Types of Natural Stone for Pool Decks
Limestone Pool Decks
Limestone is one of the most popular building materials in all of history. Now, you can harness that classic look for your pool's deck.
Limestone is available in a host of warm, earth-toned colors, and it can be cut into nearly any shape without hurting the stone's integrity. Many homeowners favor limestone because it can tolerate extreme variations in weather along with a plenty of wear.
Sandstone Pool Decks
Sandstone is made of tiny quartz grains that typically range from light brown to red. This material can stand up to an exceptional amount of wear. Builders and home owners like sandstone because it will have more consistency in color than other natural materials.
Sandstone decks are best when used as a contrast to a more striking color-toned pool.
Coral Stone Pool Decks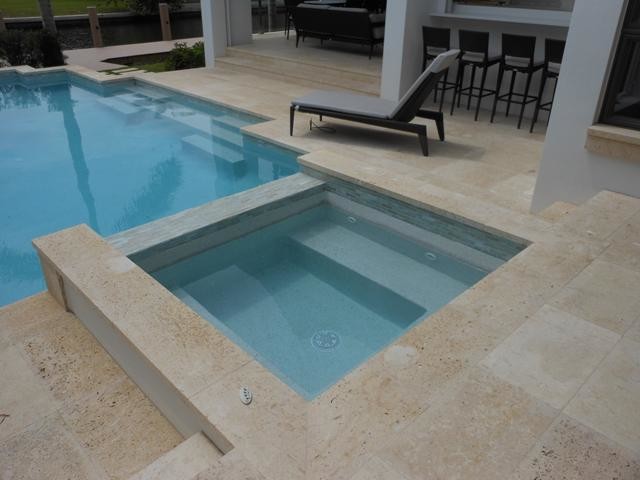 Coral stone is made of shell fossils, coral, and bits of compressed sand or limestone. Also known as coraline fossil stone or keystone, this material is extremely slip-resistant and contains millions of unique elements that are interesting to examine up close.
On top of these features, coral stone has also withstood extreme weathering from pressure and salt water while lying upon the ocean floor. This lifetime of battling the elements makes it extremely durable and able to withstand nearly any amount of pool water, chemicals or foot traffic. 
Slate Pool Decks
Slate is a form of flagstone that comes in large, wide slabs, making installation easier. The slabs come in an enormous array of natural colors ranging from dark blacks, to reds, greens, blue-grays and everything in between.
Large slate slabs make for an attractive arrangement that communicates a majestic and timeless appearance.
Bluestone Pool Decks
Bluestone is another flagstone material that is particularly suited for outdoor use. It is naturally slip-resistant and water-resistant. Typically quarried in US locations such as New York or Pennsylvania, bluestone makes the perfect accent to an area that is enhanced by natural beauty. The material also comes in a variety of finishes to suit particular tastes and needs.
Travertine Pool Decks
Travertine is one of the most popular choices when building a natural stone deck. The material can come in a variety of finishes, and it has a perfect balance of natural variation within a coordinated range of colors. 
Because the material is hard-wearing and water-absorbent, travertine decks are less prone to slipping than many tiled materials. Travertine also comes in a variety of rich tones. 
All of these materials have their own benefits and abilities to suit particular situations. There are also many other types of natural materials that are less commonly-used. Pool owners should extensively research any of their options before settling on a material of choice.
If you need help picking the best material for your deck, or if you want estimates on a deck project to make your pool the envy of the neighborhood, there are many great pool builders in the area. Once your pool is done, seek help from a quality Palm Beach pool service expert to keep your pool looking its very best.